Aalborg University Esbjerg recently held its Open House and a lot of people opted to view the impressive new facilities at the university, hear more about the programs, and listen to Denmark's first astronaut, Andreas Mogensen, talk about his ten days in space. In fact, more people than ever dropped by Open House at Campus Esbjerg where around 700 students spend their days.
- More than 500 visited us over the two days. This is a record and we are of course delighted. Many prospective students dropped by and heard about our programs, talked to our student counselors, inquired about SU rules, and saw our new beautiful and inviting laboratory facilities, so we now hope that we will have the opportunity to welcome many of them in September for the start of their first semester, says head of Campus Esbjerg, Anders Schmidt Kristensen.
On the second day of the Open House event Denmark's first astronaut, Andreas Mogensen, dropped by to talk about his exciting experiences during his ten-day stay on the space station ISS. He talked about things like the space station orbiting around the Earth at an altitude of approximately 400 kilometers and with a speed of 28,000 kilometers per hour. This meant that one orbit around the Earth took 1½ hours so he saw 16 sunrises a day. The interesting talk really drew people in and every seat in the large auditorium was filled. And with people from across the age spectrum from children of 4-5 to retirees. So all the visitors were not potential students, but that didn't matter much, if you ask the campus head.
- We've just opened a brand new building with ultramodern laboratory facilities, but many people don't know this. Many people in the Esbjerg area are still under the impression that our laboratory facilities are very old, outdated and worn-out. We're happy for people of all ages to drop by, so the message of our fine, new laboratories gets out there and people can choose their place of education based on current information, says Anders Schmidt Kristensen.
AN INFORMED CHOICE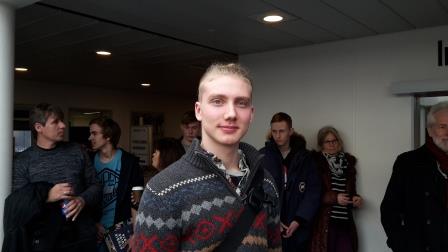 Someone who will choose a program on an informed basis is German Daniel Busemann from Braunschweig. He is considering studying Electronics and Computer Engineering at Aalborg University in either Aalborg or Esbjerg.
- I think an Open House event like this is a really good idea. It's a good opportunity to hear more about the programs, student life, the study method, what it's like to live in Esbjerg and lots of other things, says Daniel Busemann, before he hurries off to join the tour of the university that a number of students are leading.
He doesn't want to study at home in Braunschweig since he feels that staying in the immediate area would be the easy solution. Also, that the teaching method at AAU is primarily project-oriented group work and that the program is in English appeal to him.
SOMETHING TO RELATE TO
Morten Astrup from Varde is also interested in the Electronics and Computer Engineering program. And he completely agrees that it's good to get away from home.
- That's why I'd like to go to a major city to study. Either to Copenhagen and DTU or Aalborg University in Aalborg. I'm here today to hear a little more about Electronics and Computer Engineering, which I can study both here and at AAU Aalborg. So it's great that you can get all the information you need at one booth, says Morten Astrup, who will also drop by Open House at DTU and at Aalborg University in Aalborg.
He brought along his mother, Birgit Astrup.
- I think that it's really good and important that young people see something different so they have something real to relate to. So I think that the Open House is a great event; they can see with their own eyes what the educational institutions have to offer, says Birgit Astrup.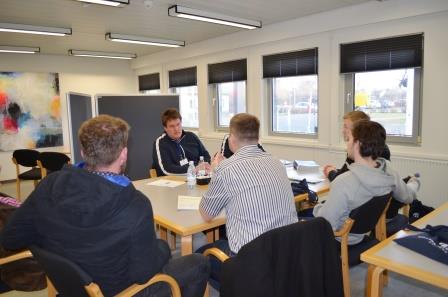 But it wasn't just the opportunity to look around. There was also the opportunity to obtain information through a conversation. And during the two days, nearly 200 people took advantage of the opportunity to talk individually with student counselors, people at the SU Office and current students.
Read more about AAU-Esbjerg educations.