By Jakob Brodersen. Translated by Pernille Budde Haensel, AAU Communication
Photos: Jakob Brodersen
Grain isn't just grain. When consumers buy a bag of flour or pasta, the grain inside has been through a careful sorting process removing contaminants and poor quality grain. Until now, this process has involved either the use of cameras to monitor grain appearance or infrared technology to determine the chemical composition of the grain.
During his studies at AAU Esbjerg, Frank Manfred Hansper discovered a technology that could be used to combine the two different approaches so that inferior grain is eliminated and the remaining grain is sorted into different qualities in the same process. Grain with high protein content has the highest market value, while grain of a poorer quality can be used for beer production etc.

NEW EYE ON GRAIN QUALITY
It is not immediately apparent whether or not a grain of wheat has a high protein content. Protein content can only be assessed either by using infrared technology or simply by cutting the grain in two to examine it. However, infrared technology does not help eliminate husk-damaged grain or contaminants.
Frank Manfred Hansper has found an effective mathematical model to combine the two technologies:
'It's like getting a new eye that sees more clearly.There are three particularly important quality parameters; protein content, relative hardness and vitreousness. The mathematical model I've developed allows us to combine data about the appearance of individual wheat kernels with infrared images to accurately predict the quality of the kernels'.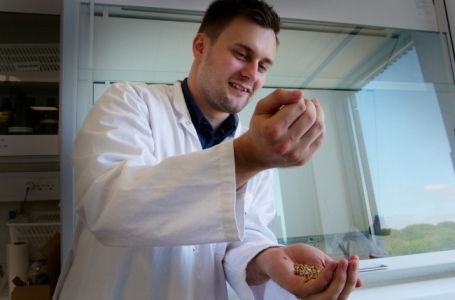 Frank Manfred Hansper in the chemical lab at AAU Esbjerg. His research on wheat grain sorting may result in better food and less food waste in the future. Photo: Jakob Brodersen.

MORE KNOWLEDGE – LESS FOOD WASTE
The more knowledge we have about each individual grain of wheat, the better we can utilise them later. When grain is sorted accurately into different qualities the quality of the end product is higher.
Better flour benefits both consumers and food producers, but the new technology also helps reduce food waste. Frank Manfred Hansper says:
'Kernels with a damaged outer shell or other irregularities can be used when we know their protein content. These grains should not be used for human consumption, but can easily be processed into good animal feed or something else instead of being wasted. The better the sorting process, the better use throughout the production chain.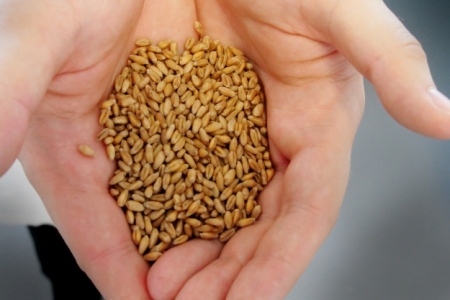 To the naked eye, a handful of grain looks quite similar, but the quality and protein content vary greatly. Photo: Jakob Brodersen


THE FUTURE OF FOOD SORTING
Frank Manfred Hansper has just graduated as chemical engineer from AAU Esbjerg. He did his research on grain sorting as part of his master's thesis and was supported by a scholarship from Novozymes.
His mathematical model was developed to characterise wheat grain, but the same technology can be used for many other types of food and the potential is huge. He says:
'The combination of hyperspectral imaging and standard sorting technology is already in use around the world. The method that I've developed shows the potential of the technology.