NEWLY ESTABLISHED AWARD FOR BEST FINAL PROJECT AT AALBORG UNIVERSITY ESBJERG
The DIS innovation award was established in a partnership between DIS (Dansk Ingeniør Service – Danish Engineering Service) and Aalborg University Esbjerg. The aim is to promote innovation and creativity through study activities in order to benefit employment and sustainable growth in the Danish and international community. The DIS innovation award is given to the best, most creative and innovative final project.
The principal supervisors recommended six different projects from Sustainable Energy Technology, Mechanical Engineering, Oil and Gas Technology, and Medialogy.
During an event on July 1, 2016 before the graduation ceremony, all six projects were presented to a panel of judges and approximately 80 attendees. The panel of judges consisted of Mogens Jensen, Administrative Director C & D Foods Esbjerg; Finn Ewert Christensen, Director, DIS; Anders Schmidt Kristensen, Associate Professor, Aalborg University Esbjerg; and Jens Bo Holm-Nielsen, Associate Professor, Aalborg University Esbjerg.
The award in the amount of DKK 25,000 went to Simon Klinge Nielsen with the topic "Optimizing Pelletizing Process." The project scored high on all parameters: problem based learning, innovation and creativity, subject knowledge, and the X factor (e.g. communication). In addition, the high degree of cooperation between Andritz Feed & Biofuel and the university was highlighted as it resulted in a high scientific level that can be beneficial for the company and further development of their products.
In his final project, in conjunction with Andritz, Simon focused on modelling the pelletizing process for pressing wood pellets. The model will eventually lead to improved design of the matrices used, reducing energy consumption in the process as well as the wear on the matrixes. Since Andritz can see the larger implications of the project, an application for an Industrial PhD is underway. Simon has already been hired by Andritz.
Simon was really surprised by the award since he thought there were many very good projects.
FRIE ERHVERVS INVESTERINGSFOND SCHOLARSHIP PRESENTED BY JØRGEN MAKHOLM, ATTORNEY AT LAW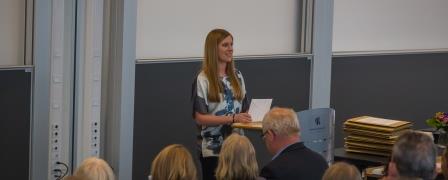 The organization wants to support and develop the business community in Esbjerg by awarding a scholarship to a person who has studied in Esbjerg and who will live and work in the area.
The scholarship in the amount of 10,000 DKK went to Josefine Rønn Jakobsen who graduated as an engineer in Oil and Gas Technology.
Throughout her studies for a master's degree in Oil and Gas Technology, Josefine did impressive work both in courses and on projects.
In her ninth semester she did a stay abroad at Arizona State University and helped to launch new research – with all the problems such an undertaking entails, especially when the group had just moved from New Mexico State University. She continued this research in her final project with other infrastructure problems since Chemical Engineering had just moved to new laboratories and not everything was where it was supposed to be. Josefine faced these "obstacles" with good humour and was always able to find a new and smart way out.
She was one of the pioneers in the bachelor's program in Energy Technology and then studied Oil and Gas Technology with her eye on working in the oil industry in Esbjerg. She has now achieved this, competing with a large number of other applicants, and will start working at Maersk Oil.
Josefine is incredibly grateful that her work is valued. She says "It has been a very challenging project where I've had the opportunity to work with a subject that I learned about during my stay at Arizona State University. I am very happy with the result." Josefine is now looking forward to starting in the Maersk International Technology and Science Programme (MITAS) at Maersk Oil in August.
Double honours as Teacher of the Year 2016 at Aalborg University Esbjerg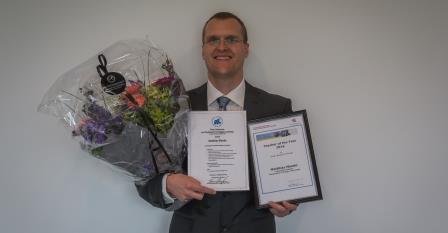 On July 1, 2016, Matthias Mandø, Associate Professor in the Department of Energy Technology at Aalborg University Esbjerg, was named Teacher of the Year by the Study Board for Civil Engineering and the Study Board for Energy.
In both study boards, Matthias was selected from among the nominated teachers on the Aalborg and Esbjerg campuses.
The students nominated Matthias because he is passionate about subject knowledgeacademics and is an incredibly committed teacher. He is a good communicator and endeavours to ensure that everyone has a good understanding of the material. Matthias is always well prepared for class and it is clear that good communication in teaching is very important to him. He takes pride in teaching and optimizes his teaching by actively listening and using the feedback that comes from the students.
The students also noted that Matthias teaches in a constructive manner, with mutual respect for the students, and enriches his teaching with quality, structure, joy and his good spirit. He has a feel for the difficulties the students have and makes sure to go in depth with those areas that cause them difficulty.
Matthias also makes the most of his teaching materials and brings things to life with good use of the board, visual examples and little anecdotes.
As a supervisor, Matthias is engaged in student projects and always willing to read and comment on everything sent to him. The students feel that it is important to Matthias that everyone makes it through their program.
Matthias is proud of this dual recognition and having been selected from among many teachers and adds that the honour means a lot to him: "I'm working all the time to improve myself and listen to the students, so receiving recognition from them that they also experience this makes me happy. It's my job to teach, but it's rare that someone says it's good, so that gives me even more motivation.
Matthias received diplomas, wine and flowers.