Text and photos: Line Jørgensen and Jens Bo Holm-Nielsen
The EU's recently appointed Commissioner for Energy, Estonian Kadri Simson began her round trip to the Member States on Thursday, February 6, with a visit to Esbjerg. In addition to visiting Esbjerg Harbour and the Horns Rev I & II & III wind farms, she came to AAU Esbjerg for a debate meeting about the green transition.
With her, she had elected European Parliamentarian Asger Christensen (V), elected in Southern Jutland. The mayor of Esbjerg, Jesper Frost Rasmussen and Aalborg University's Rector Per Michael Johansen also participated in the presentation and debate panel.
The fact that Esbjerg has the honour of being the starting point for the Commissioner's roundtrip is an expression of her recognition of Esbjerg's leading position as an energy metropolis and the leading hub for shipping offshore wind turbine projects to the North Sea and the world market. Furthermore, the area is a really good example that green conversion can also be a growth strategy.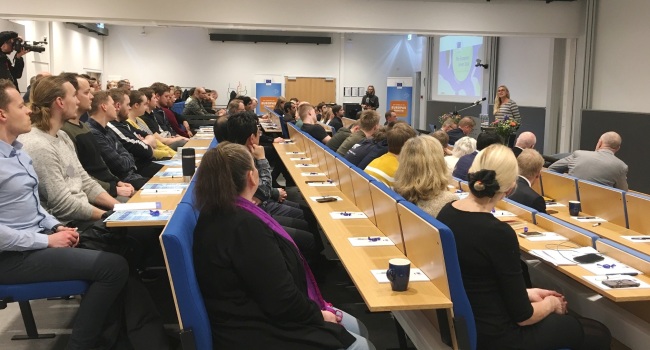 At the AAU Esbjerg debate meeting, organized by the EU Commission in collaboration with AAU Innovation, more than 80 guests attended - including students and researchers from AAU Esbjerg, which only enhanced the eagerness of the guests.
The questions from the audience spanned a broad field of topics within the green transition, public transport, Esbjerg as a cycling city, "power to X" and the challenge of storing renewable energy, expanding infrastructure for electric cars, seeking financial support for agriculture to promote the use of straw for biogas, adaptation of the aviation industry to the 2050 targets and recycling of plastics and plastics in the world seas. So the questions related to the UN's 17 World Goals SDG17 but of course focusing on energy security, reliability and transitions to renewable energy.
Mayor Jesper Frost Rasmussen talked about the municipality's efforts in the field of energy, which means for example that from 2021 city buses in Esbjerg will be electrically powered, while the rural buses will run on biogas.
Finally, Rector Per Michael Johansen took the opportunity to urge politicians not to cut funding for research, because knowledge and facts are essential to make the right decisions about how to best phase out fossil fuels and switch to renewable energy as soon as possible in the entire EU.
Acting Head of Department of Energy Technology Lasse Rosendahl led the meeting with a knowledgeable hand in the best possible way, so it was a really good experience for everyone, both the participants and the EU Energy Commissioner Katri Simson.