Anders Schmidt Kristensen, Head of Campus, welcomed the graduates and congratulated them on completing their education, expressing his wish that they be good ambassadors for Aalborg University Esbjerg, as he put it: - you are something special. You are deliberate, focused and have acquired a touch of West Jutlandic spirit.
Jens Rebsdorf-Gregersen, Senior Director, Rambøll Denmark, talked about going from being a student to becoming an employee and colleague and thus venturing outside one's comfort zone. He left the newly minted graduates with three tips as they head out to their first job. The first is to go out into the world and experience new cultures and other ways to solve problems in that engineers with global experience, vision and new perspectives are in great demand. Second, he advised them to stay sharp and to always be adding to the "toolbox." Finally, he urged them to keep cultivating the desire to explore, go in depth, learn and to retain the ability to question the conventional wisdom. This applies to technology, methods and work procedures alike.
Søren Heide Lambertsen, Section Head in the Department of Civil Engineering, spoke from the teacher perspective in his speech to the graduates who had come a long way since their first day at Aalborg University Esbjerg: - We have seen the joy in your eyes when issues have fallen into place with the reaction "It wasn't that complicated," which was quickly replaced by even more questions on how the details hang together. We have seen you grow academically, and develop your understanding and overview of engineering. So it was with a certain sadness he bid farewell to the graduates.
Birgit Kjærside Storm, Associate Professor and representative from the Danish Society of Engineers (IDA), stressed that the new engineers are a hot commodity: - You are graduating at a time when there is a great need for engineers and science graduates on the labor market, and we know that there is a shortage of engineers, not only in the Esbjerg area. She noted that in both the Sønderborg and Triangle areas there are targeted campaigns to attract engineers, including from the Esbjerg area.
The last speaker before the celebrations continued in the campus cafeteria was Mikkel Rindholt, representative from the Student Society at Aalborg University Esbjerg and a student in the Energy program. He emphasized the benefits of Esbjerg being such a small campus: - You've probably all at one time or another needed one of the program secretaries. Whether it was a problem with financial aid (SU) or whether you just ran out of chalk, they have always been there for you. And they can probably remember the student number, social security number, email address, grades and shoe size of each and every one of you. In any case, they have always treated you as so much more than a student number.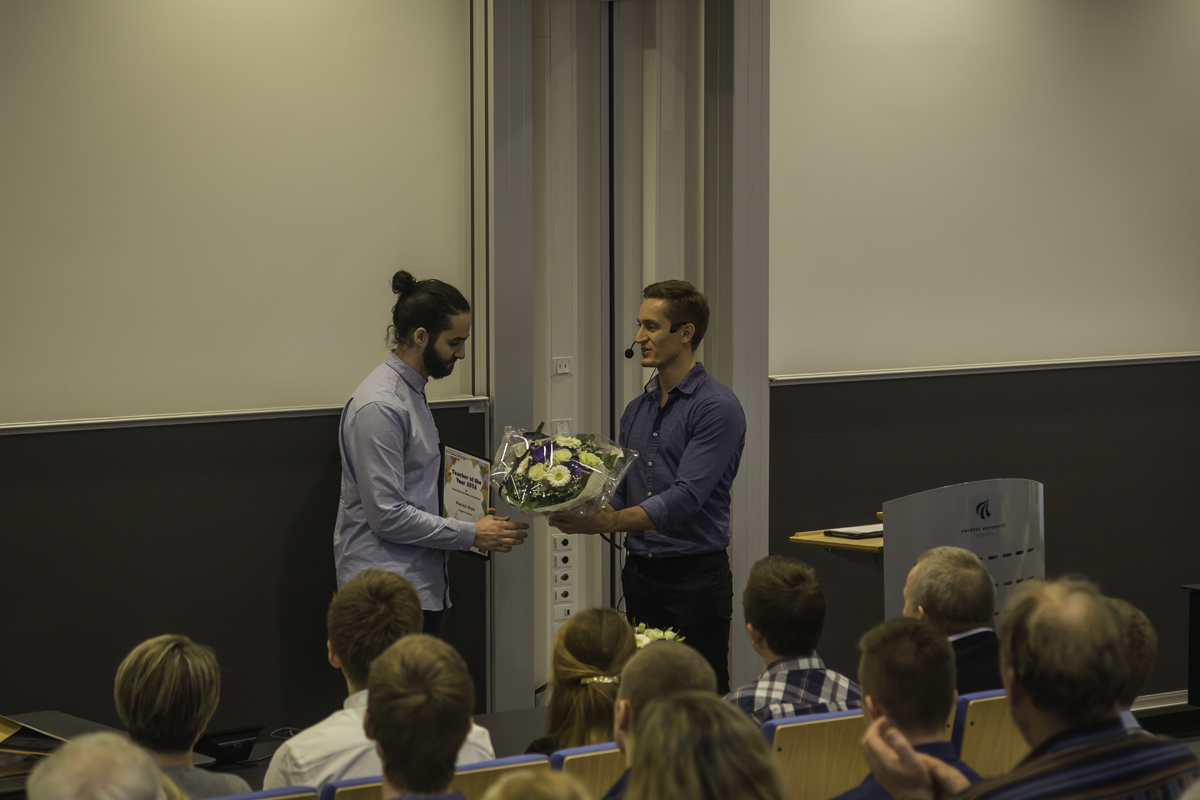 MEDIALOGY TEACHER OF THE YEAR 2016
The Teacher of the Year award in Medialogy this year went to Patrick Stolch who teaches at Aalborg University Esbjerg. On behalf of the Study Board for Medialogy, he was presented with the award and flowers and was honored in a speech by Michael Boelstoft Holte, Professor in the Department of Architecture, Design and Media Technology.
Patrick was selected by the study board among all the nominated teachers in Aalborg, Copenhagen and Esbjerg for his work as a supervisor and teacher.
The students nominated Patrick for the award because he manages to convey information clearly and makes good use of brief summaries along the way which helps them to maintain the overview.
Patrick always makes sure that the students have understood the material. He listens to them and understands how to use their feedback to improve his teaching and maintain a high level of instruction. As a supervisor Patrick's door is always open to both his own and other groups who want to discuss projects.