Thirty-six selected students from 8 upper secondary educational institutions in South Jutland and Northern Germany took part in a camp October 5-6, 2016 at Aalborg University Esbjerg. The camp was organized by the Rybners, Varde and Esbjerg high schools and Aalborg University Esbjerg. Students had an interesting and challenging academic experience and learned what an engineering program here in Esbjerg is all about.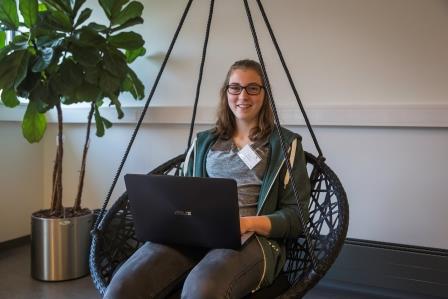 Mia Julius, Duborg School in Flensburg, signed up because she wanted to work with physics and chemistry in practice, as the teaching is very theoretical, and also to find out whether an engineering program is something for her. Mia says: "I haven't decided, but I could go to Denmark and study after seeing the many options for work as an engineer."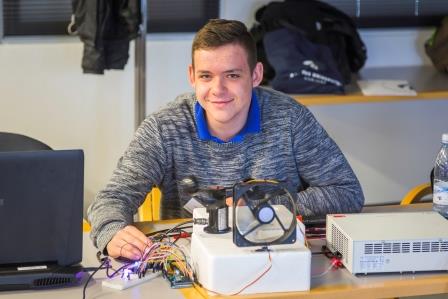 Mathias Budolph Pedersen, Esbjerg High School, would like to be an engineer and signed up because he is not sure where to study. Mathias says "It's been interesting and instructive to see how things work. Getting a case to solve is an attractive feature. I'm now definitely considering Aalborg University Esbjerg as a place for my education."
The high school students worked with five themes in technology and wind. The work followed the Aalborg model of problem-oriented project work. As a prelude to the work the students got a peptalk and were then supervised by Aalborg University Esbjerg students. The participants were enthusiastic about the work method. Mads Brøndum Carlsen, Grindsted Gymnasium, says "I now know how it works. Companies contribute by submitting a problem, and you work with a real problem. It's a win-win situation for both parties."
Feedback from the students shows great satisfaction with the camp; almost all learned something about university life, and well over half expressed that it influenced their future plans. Many have not decided about their future plans yet, but over one third of the participants now see an engineering program as a possibility in their future plans, and more of them also see Aalborg University Esbjerg as a possibility. Employment in the area looks promising in the future.
UNIVERSITY LIFE
The organizers wanted to bridge the gap from high school to university with this invitation to come and see how university life works.
Casper Biltoft Jepsen, Rybners Technical High School, said "The camp provided interesting insight into university life. It was incredibly enjoyable, interesting and instructive." Casper would probably like to go further away and study; however he had this to say "It's a quiet and comfortable environment here, and they don't compromise; you get the same here."
Marc Bannwart Thomsen, Varde High School, also got some good insight into university life, and sees himself in structural engineering either in Aarhus or Esbjerg.
THE WINNERS
The camp ended with the ten groups presenting to each other and a panel of judges consisting of teachers from the organizing high schools, students from Aalborg University Esbjerg, and Rasmus Konge, Material Lead Engineer, Vestas. One of the organizers Niels Egebjerg, Esbjerg High School, praised the fact that all the participants were involved in presenting and demonstrated a high academic level. After the camp, the participants all evaluated it as being challenging, and they all learned something new.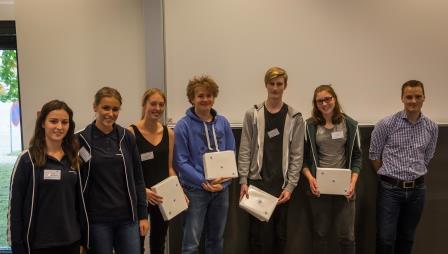 The winners worked with wind turbine processing and took these words from the panel of judges with them: Good and well-functioning group, impressive review of the issue, and environmentally friendly measures in their solution."