Per Michael Johansen, Rector of Aalborg University, emphasized that the stunning new building and facilities will make it easier to live up to our strategy in the next five years and provide "Knowledge for the World." He also mentioned that Aalborg University Esbjerg is already working closely with the area's major offshore industry on the development of technology and study programs; there will be even better opportunities in the future.
Anders Schmidt Kristensen, Head of Campus, stressed in his speech that the new laboratories, and study and teaching environments provide new energy and inspiration with new lighting and new artwork. He invited prospective students, researchers, institutions and companies to campus to cooperate on achieving new goals and creating more value in the entire region.
Esbjerg now has a new and visible beacon for education and research, began Eskild Holm Nielsen, Dean of the Faculty of Engineering and Science, Aalborg University. He continued that it is his hope that the new, inspirational buildings can enhance the attractiveness of Aalborg University Esbjerg for new students. Our presence in the area generates not only new solutions and new knowledge, but also pattern breakers and qualified labour to a business community that to a high degree needs it.
Mayor Johnny Søtrup pointed to the fact that the building has an expression all its own, with the wood facade that fits incredibly well here, and that it must be a pleasure to spend study time in these new facilities. He said "I can only imagine that students in these surroundings will see higher grades from now on. Why go home when you can be here?" The Mayor also noted the municipality's contribution to attracting students to the city: the new sports facility, volleyball court, fitness highway and gardens that invite to activity and stays. The final stage will be completed in the late summer of 2016.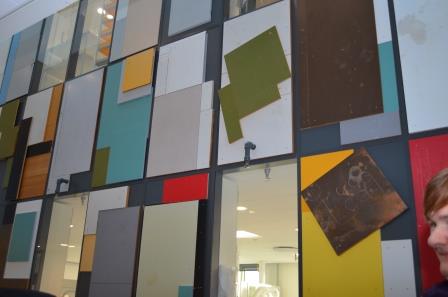 The inauguration ended with a tour where the new, inspirational artwork was on display. Artist Camilla Rasborg has created a 100 square meter relief made of the inventory from the former laboratories as well as 34 prints made of acid stains from the dismantled laboratories. The 34 prints decorate the glass office walls in the new building. There was also a visit to the labs, such as the lab with the wave pool.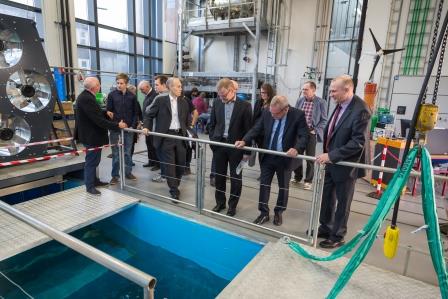 The renovated and new buildings are valued at 131 million kroner, and the developer is the Building and Property Agency for Aalborg University. The construction is financed with support from the Unilab funds. The Unilab funds are the Parliament's 2010 appropriation of no less than six billion kroner to ensure world-class laboratories at Danish universities.