By Jakob Brodersen
Photos: Jakob Brodersen and AAU Esbjerg
The blue seats in the auditorium at AAU Esbjerg boast a full house. The graduates eagerly wait, along with proud family members festively clad, to receive the diploma that proves they are no longer students, but engineers or hold an MSc in Technology.
AAU Esbjerg is sending 80 graduates out into the world, and never before has Western Jutland seen this many new graduates. So many that for the first time the university had to hold two separate ceremonies in the university auditorium to be able to accommodate all the graduates and their families.

The new graduates come primarily from the engineering programmes, and the vast majority of them can look forward to starting jobs after a brief but well-deserved summer holiday. One of them is Mathias Pedersen, 26, who now holds an MSc in engineering in mechanical design and is starting as an engineer at Vølund in Esbjerg in early August.
'I started looking for a job in April,' he says. 'I applied for two positions and was offered both of them, so I chose the one that was closest and that I preferred. It's a really good position in an amazing company, so I'm really pleased.'
JOB SECURITY
According to Olav Geil, Pro-dean of the Faculty of Engineering and Science, the fact that virtually all the students are graduating with an employment contract in hand is largely due to the ever-growing need for skilled engineers.
'We aren't training anyone who isn't needed. The latest figures from the Danish Society of Engineers show that in 2025 there will be a shortage of 10,000 engineers. We can put anyone coming out of AAU Esbjerg into a job. The challenge for us has been to attract enough students, but with the mix of bachelor of engineering and master's programmes we have now, it seems we're on the right track, he says.

MEDIUM-LENGTH ENGINEERING PROGRAMMES ARE A HIT IN ESBJERG
When Head of Campus Anders Schmidt Kristensen has to point out which courses are particularly popular at AAU Esbjerg, he emphasizes the medium-length engineering programmes. They attract young people who come directly from youth education, as well as slightly older students who come with a craft or another shorter educational background.
'In particular, the three and a half year bachelor of engineering programmes are the most attractive to young people here in the south-western part of Denmark. It's also a type of programme that is well-suited to the Esbjerg business structure. The labour market demand here matches well with the graduates we produce,' he says.
Close contact with the private sector is one of the pillars of AAU Esbjerg. Approximately 75 percent of the students are involved in project work with private companies during their studies.

AWARD TO GOOD COMMUNICATORS
Esbjerg's business community's foundation 'Frie Erhvervs Investeringsfond' traditionally awards a scholarship. This year it went to two students: Anders Præstbro and Alexander Gade Gejl.
During their studies, these two graduates were part of the university corps of student ambassadors. Thus, they took part in a wide range of events where they informed prospective students with upper secondary vocational training and those from vocational schools on the options for further study in the many different engineering programmes at AAU Esbjerg.
Both scholarship recipients now hold an MSc in engineering in mechanical design. After the summer holidays they are starting at Rambøll and Atkins in Esbjerg, respectively.
'The award is a nice pat on the back and a great recognition. It was not something we expected,' says Anders Præstbro.
'I think it's because you can see that we're happy with what we do when we're out talking about it. We can really recommend studying at AAU Esbjerg.'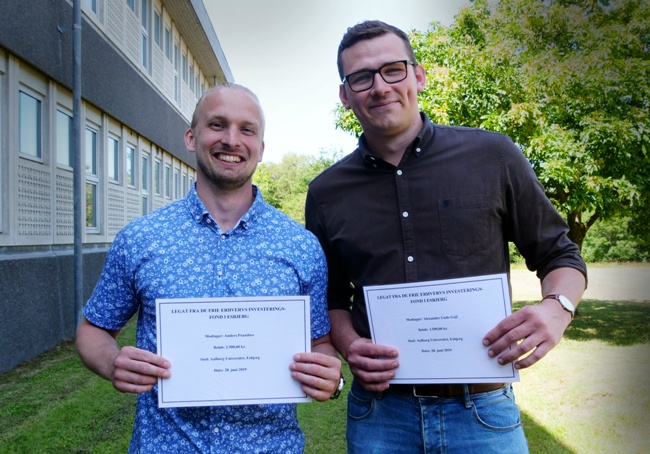 Anders Præstbro (left) and Alexander Gade Gejl received the 'Frie Erhvervs Investeringsfond' scholarship for their great work raising the visibility of the engineering programmes at AAU Esbjerg for prospective students.
The graduates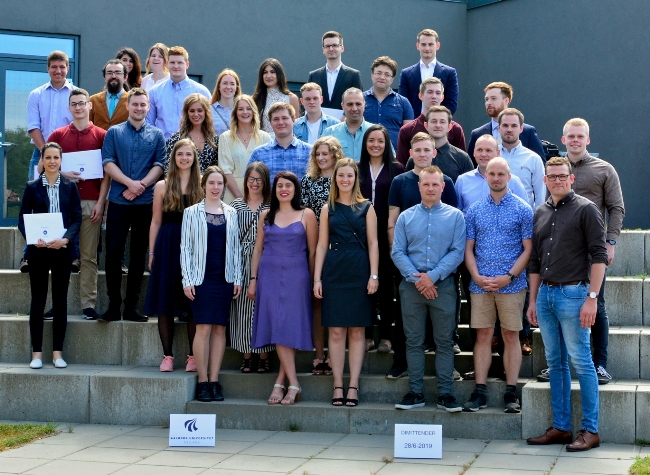 New structural engineers, mechanical engineers and chemical engineers. See larger image.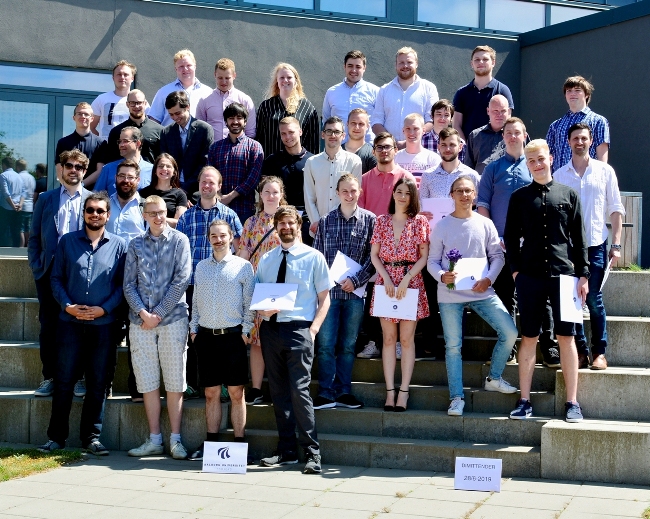 New engineers in Energy and Electronics, and graduates in Medialogy. See larger image.