Aalborg University Esbjerg
Available master programmes
Master's programmes at Aalborg University with available study places starting in September 2020 are open for applications.
Study programmes at AAU Esbjerg
Study guidance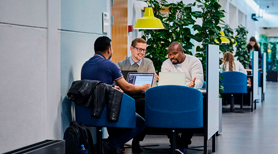 Admitted to AAU Esbjerg?
Are you a new student admitted to Aalborg University Esbjerg, you cand find more information on the website for new students.
International Students
At Aalborg University Esbjerg we welcome international students from all over the world!
Approximately 25% of our students are international both from within and outside the EU. Equally we employ several international academic staff, thus an intenational athmosphere at campus.
For information on how to apply please see
en.aau.dk/education/apply
For more in depth information for international students check out newstudents.aau.dk
If you have any questions please dont hesitate to contact us at international@esbjerg.aau.dk
Accommodation in Esbjerg

Get information and advice on how to find accommodation when you're going to study at Aalborg University in Esbjerg.